Latin America & Caribbean
Trump Ocean Resort Baja: A foundation of lies
For two years, the developer of the Trump Ocean Resort in Baja California, Mexico, made a slew of promises to buyers. But construction never even began.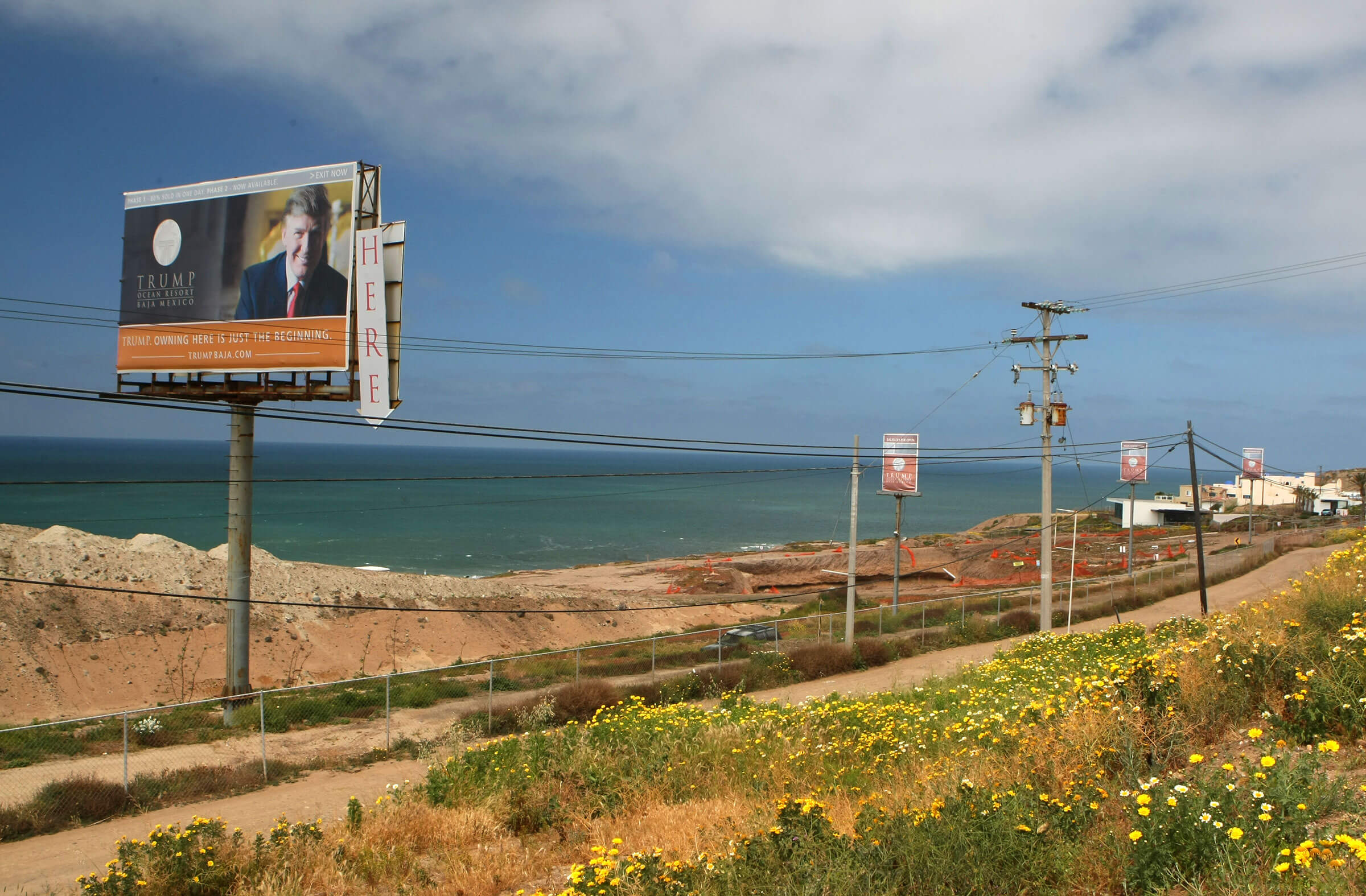 Trump

Ocean Resort Baja
A foundation of lies
Site of the Trump Ocean Resort, more than ten years after it was announced
By Inti Pacheco
Donald J. Trump settled a battle against hundreds of plaintiffs in 2013. Buyers of the units at the Trump Ocean Resort in Baja California, Mexico, filed a class action lawsuit against him and a California-based developer after the project failed.
In their lawsuit, the buyers claimed that the Trump family participated in a fraudulent marketing strategy portraying themselves as developers and investors. They also said that developers had made a number of misrepresentations that made them believe the project was progressing.
Tired after five years of litigation against the Trump Organization, the buyers in the lawsuit, who collectively had made around $20 million in deposits, decided not to take the case to trial.
Instead, they received a $7.2 million settlement from the developers and agreed to a "substantial amount" from the Trumps, which remains undisclosed because of a confidentiality agreement, according to a party involved in the settlement.
The Trump Ocean Resort, announced in 2006 as a partnership between Irongate, a California-based developer led by Jason Grosfeld and Adam Fisher, and the Trump Organization, was a straightforward licensing agreement. The Trump Organization received an upfront payment of $500,000 as part of the fee for using the Trump brand.
But three years later, in 2009, all of the buyers received the same email: "Unfortunately, given the extreme dislocation of the financial markets and after exploring a multitude of debt and equity financing alternatives, the Baja project will not be able to proceed."
Footage from the site of the Trump Ocean Resort, more than 10 years after it was announced.

Univision Investiga
An investigation by Univision News and Columbia Journalism Investigations found that Irongate and S&P Real Estate, the company in charge of marketing and sales for the project, had misled buyers for almost two years.
The companies had publicly boasted about an exaggerated number of sales and had told buyers that financing had been secured, when in fact it never materialized. The companies repeatedly said construction was in progress, but in two years they only managed to dig a large pit with a few slabs of concrete.
Univision spoke by phone with Trump-lawyer, Alan Garten, in January seeking comment for this report. Upon his request, detailed questions were submitted by email. At the time of publication Garten had not responded, despite several follow-up phone calls and emails.
Trump Baja is one of a number of cases of misrepresentations involving a Trump project.
Businessmen in Georgia, Panama, the Dominican Republic, Brazil and Azerbaijan used the Trump name to inform local media that the real estate mogul was investing in their countries or was in charge of a construction project.
In other Trump projects, sales representatives made false statements about the number of sales made to impress potential buyers. In one case, the Trump SoHo project in New York, Donald Trump Jr. and Ivanka Trump were close to being charged with fraud for inflating numbers, according to a report by ProPublica, WNYC, Columbia Journalism Investigations and The New Yorker.
No construction
Univision made several requests to the appropriate authorities in Mexico and found that permits were obtained by Irongate's Mexican subsidiary, PB Impulsores, solely for the construction of one tower. The permit was not secured until July 2008, over a year and a half after the units for the first tower were sold.
This investigation found that Irongate never obtained authorization for the construction of a second tower, even though more than half of its units had been sold. Internal documents show that Irongate received some $10 million in buyers' deposits for this tower.
A person involved in the lawsuit who spoke to Univision on condition of anonymity said plaintiffs sent engineers to look at the progress of construction. When they reported back, the engineers said the dig at the site had only a couple of cement slabs with "no structural element to support the towers," the source said.
"It was just a thin layer of nothing. You would step on it and it would crack," the source said. "The job was done so they could tell everybody that the project was doing fine."
These findings are part of a series by Univision and Columbia Journalism Investigations that looks at the Trump Organization's licensing business. This investigation revealed that 15 of the 27 international projects include an investor or a developer that has faced criminal allegations.
It is unclear how much the Trump Organization - particularly Donald Trump Jr. and Ivanka Trump - knew about continuous misrepresentations made to buyers.
According to the licensing agreement between Trump and PB Impulsores, Irongate's Mexican subsidiary, the Trump Organization was able to periodically review numerous aspects of the project including marketing material, site and construction plans, unit layouts and sale counts.
Despite the fact that the inflated numbers were published, there is no evidence that Ivanka Trump or Donald Trump Jr. actually knew about the statements made in the marketing material.
In depositions taken in 2012 as part of the lawsuit, the Trump children said they did not remember any of the emails shown as evidence of their involvement in approving the distribution of the misleading statements.
"The marketing and PR people had, to my knowledge, forwarded all information and proposed marketing material to the Trump organization for approval," Daniel King, a lawyer representing the buyers, told Univision.
Tracy Collingridge, who worked as a sales agent for S&P at the time, said staff would receive instructions on what to tell buyers. "Everything came from the developer down to whoever was in charge of the sales team. Anything we did came from the top," Collingridge said in an interview with Univision.
A 2007 email chain submitted as evidence in the court case reveals how S&P Real Estate asked Jill Cremer, then executive vice president at the Trump Organization, and Casey Federman, an executive for Irongate, to approve material before distributing it.
Michael Rodriguez, one of the buyers who was part of the class action lawsuit, said every person who purchased a unit did so because they thought Trump was the developer.
"Every brochure we got said Trump was a developer and said that he was in charge of every detail. That's how they earned my trust," Rodriguez said in an interview with Univision.
Collingridge, like other S&P agents, received emails from clients asking about Trump's role in the project. They also received multiple emails asking about the construction progress, which was stalled within a year of its scheduled start.
Federman also emailed Collingridge the answers to questions a client had asked. "Trump is not only a licensor of trademarks but a true partner in this venture," Federman said in his response.
"Trump has a stake in the ownership of the hotel and the land on a go forward basis and therefore is keenly aware of every aspect of the project," Federman said in the same email.
"They told us not to worry and said everything was moving forward. They dug that hole so we would stop worrying," said Rosy Torres, a buyer based in Rosarito, Mexico.
Collingridge reassured other clients in emails sent in March 2008: "The construction loan has all been approved, and is soon to be funded, which will allow the vertical construction to move forward."
The real estate agent said she did not recall the emails and said the sales agents were hired just to make the sale and then leave. "I was only there for the sales. The majority of the team had left, maybe one was still involved," Collingridge said.
Strong sales
The first sales event for the Trump Ocean Resort took place in San Diego, California, in December 2006. Irongate called it a success and said that over 80% of the units had been sold in one day.
Documents obtained for this investigation show fewer than 60% had been sold that day. Over 34 units had been assigned to Irongate executives, executives and subsidiaries of MKA Capital, a lender in the project, and other parties related to the developer.
In the lawsuit, over 50 buyers claimed Ivanka Trump said the Trump Organization was a developer in the project during a sales event in San Diego in May 2007. Almost 100 buyers said they saw a video of the event in which the statement was made.
Another sales event was announced for June 2007, and Donald Trump Jr. was there to promote the project. A second building, the Spa Tower, was to be sold and Donald Trump Jr. said he had decided to buy a unit.
Immediately after, Irongate executives also told the media that the sale was successful. The developers claimed over 70% of the units in the second phase had been sold, but the number was actually closer to 40%, according to internal documents.
Looking back on it, maybe Irongate had known already that they couldn't get financing and then they just waited
Sales records reviewed by Univision show that Ivanka Trump made a deposit that was less than half of the required 30% that other buyers were required to make, even for the cheapest units. In Donald Trump Jr.'s case, there is no record of him making any deposit for a unit in the second tower.
A financing crisis
A year after it was announced, the developer's lender, MKA Capital Advisors, was unsatisfied with the project's progress. MKA gave Irongate over $20 million to buy the site and build the towers. By April 2008, Irongate was already $14 million over budget with no progress in construction.
Jason Sugarman, CEO of MKA Capital Advisors, expressed his concern over the project. "After recently learning of how the dollars have been spent, as fiduciaries, MKA cannot allow Irongate to continue to use the deposits without regard for the approved budget," Sugarman wrote in an email to Federman.
By the end of May, Sugarman was running out of patience, emails show. "When the massive misuse of deposits used to cover overruns was discovered by MKA it was promised to me that MKA would not be damaged by IG's (Irongate) violation of the MKA loan," Sugarman wrote. Irongate had defaulted on the loan and had yet to show how it planned to repay MKA.
"Four months of excavations and earth movement have been completed," Grosfeld, the Irongate executive, said in a mass email to all of the buyers three months before problems arose with MKA, in January 2008. In his message, Grosfeld said developers had "FULL approval" and were closing the construction loan for both towers where units had been already sold.
Although buyers had deposited over $30 million, Irongate had not secured a senior loan that would allow them to finish the project, and according to internal communications reviewed by Univision, it didn't seem like they were about to get one, either.
At one point, Rodriguez told one of the sales team members that he was growing tired of waiting and wanted his money back. "He told me to wait and said that if they didn't get the loan, Trump would put his own money to build it," Rodriguez said.
Collingridge, the real estate agent who worked on project sales, said that S&P was told Irongate had already secured financing. "I understood that they lost their financing," the sales agent said.
Torres, the Mexican buyer, said she spent a year worrying about her investment before Irongate made an official announcement. "You know what? There's no financing. Sorry," she said. "They kept saying everything was fine and all of a sudden they tell us about the financing problems two years after the initial purchase."
In August 2008, Irongate was still looking for financing - in Mexico - five months before they announced to buyers that the project would not move forward, according to documents reviewed for this investigation.
"Looking back on it, maybe Irongate had known already that they couldn't get financing and then they just waited," Torres said.
Although there was no progress for two years, the Trump Organization did not cut its ties to the project until late 2008.
According to the license agreement, the Trump Organization could pull out of the project by April 2008. The contract stated that if the developer did not obtain financing or construction permits within the first 18 months, the agreement could be terminated. But the Trump Organization chose to stay for at least six more months.
While the Trumps said they were unaware of the situation, their contract also required the developer to provide "monthly progress reports with respect to the construction of each building," which would have alerted them early on of the trouble Irongate was facing.
Alejandra Ibarra contributed reporting to this story
A special report by
Univision News
& Columbia Journalism School
All Credits
Spanish Editors: Ronny Rojas, Giannina Segnini, Alejandro Fernández S. and José F. López
English Editors: David Adams, Jessica Weiss and David Boddiger
Investigation and reporting: Inti Pacheco, Manuela Andreoni, Alex Mierjeski, Keenan Chen, Gerardo Reyes, Juan Cooper and Margarita Rabin
Web development and design: Juan Jesús Gómez
Animation: Mauricio Rodríguez-Pons
Social Media: Angélica Rodríguez
Contributors: Columbia Journalism School's 2017 Using Data to Investigate Across Borders class, Jeremy Blackman, Ritu Sarin (The Indian Express) and The Toronto Star